Small Benefits Game Night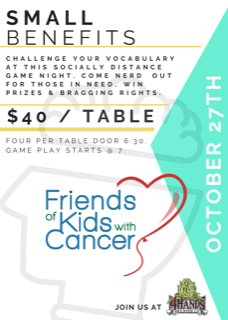 Each event will consist of 10 tables of 4. Tickets will be sold by the table for $40. Tables will consist of 4 people comfortable being at a table with each other.
The location is the Schlafly Tap Room on Locust in their outdoor tent. Socially distanced picnic tables are already provided.
The time is 6:30 to 7:00 for Arrival and ordering food and beverages. Game starts at 7:00 with 2 rounds being played. The event will go til 9:00
Tap Room staff will provide table service throughout the evening. (No outside food or beverage) The Tap Room will be donating 10% of sales from the event to the non-profit of the night.
The Game:
Challange you vocabulary. Teams will be asked to work together to come up with synonyms for words and play them on a gridded board. The game is scored by how many squares on the grid a team has been able to fill after 15 words (Teams are given 3 minutes to discuss which word to play) The game takes 45 minutes per round.
Rules will be passed out to each table along with erasable Game Board and Erasable Marker.
Prizes will be awarded for the winning table of each round and an overall grand prize for the winner of both rounds.
Everyone must wear masks when entering, exiting or leaving their table for any reason.