2016 Walk with a Friend Recap
2016 Walk with a Friend was a "Sunshine Celebration" and Raised $50,000 for Kids with Cancer!
The weather could not have been more perfect and the smiling faces from kids, families, volunteers and supporters prove that Friends of Kids with Cancer has a positive effect on not only kids with cancer, but the community as well. Everyone came together for a great cause and the happiness was contagious.
This fundraiser is unique in that families who have a child battling cancer, a child in remission or have lost a child to cancer, come together for a fun family day that centers around the kids. Aside from the walk/run, jumps were challenged in bounce houses, dancing took a new form with hula hoops and even fears of snakes were conquered. Other activities included carnival games and prizes, face painting, train rides, art projects, St. Louis Ambush blow-up soccer goal, dancing to music from 106.5 The Arch and balloon artists. There was something for everyone, even the young at heart.
First Watch served a hearty and healthy breakfast to warm up the runners and walkers. Following the carnival activities, the Moolah Shrine Clowns kicked off the run, as over 1,500 runners and walkers followed in support of their children, friends and family members battling cancer.
The 16th annual 'Walk with a Friend' 5k Run/1-Mile Walk fundraiser was held on Saturday, April 23, 2016 at Vanderbilt Office Properties at Maryville Centre. Friends of Kids with Cancer is grateful to have many 'friends' who support the mission and help kids with cancer...be kids!
Check out the race results.
Thank you to our wonderful sponsors and family teams who make this event successful each year: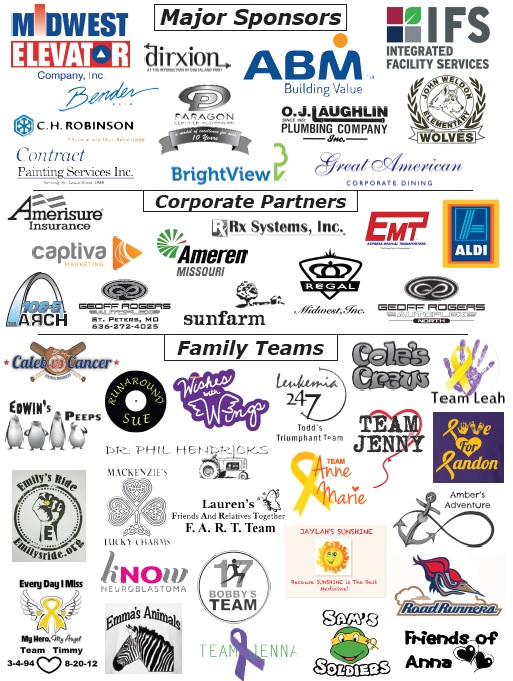 Thank you to all our participants, sponsors, volunteers and supporters for making the 16th annual Walk with a Friend a success!
Watch the Walk Video created by Ricky Ortiz.
View more photos from our volunteer photographer, Rebecca Lenk and her team, HERE.