3v3 Soccer Tournament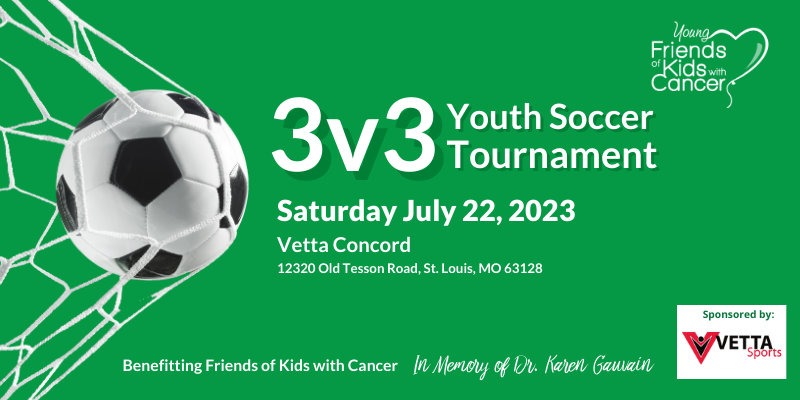 Unfortunately the 2023 3v3 Soccer Tournament benefitting Friends of Kids with Cancer is cancelled due to low team registrations. We are hoping to find a more favorable date and will be sure to publicize if the event will be rescheduled. Thank you for your support!
Saturday, July 22, 2023
Vetta Concord
12320 Old Tesson Rd
St. Louis, MO 63128
Join us for day of indoor soccer for all the kids! Registration includes a minimum of 5 high-paced games per team, a commemorative water bottle, and snow cones, snacks, and fluids all provided the day-of for the participants.
Create teams in the following categories:
Ages 8-10 boys or 8-10 girls
Ages 11-13 boys, 11-13 girls
Ages 14-17 boys, 14-17 girls.
No adult co-ed this time.
One team of 3 players is $250.
One team includes up to 3 alternate players (6 players total per team).
Add alternates at $40 each.
REGISTRATION IS NOW CLOSED