2016 Art from the Heart Raised $50,000!
We want to thank everyone who made this year's Art from the Heart so successful! You have truly touched the hearts of kids with cancer and their families!
75 pieces of artwork created by kids with cancer were auctioned at the 7th annual Art from the Heart fundraiser on September 22 at Mungenast Lexus of St. Louis. This event raised $50,000 to support Friends of Kids with Cancer's art therapy program.
The auctioned artwork was created by patients in cancer treatment during art therapy with Friends of Kids with Cancer's art therapist, Natasha Westrich-Wood. These kids work all year on their pieces of art which help them to express the emotional feelings associated with their cancer treatment.
The artists were invited to attend the event with their family to enjoy a special night out to honor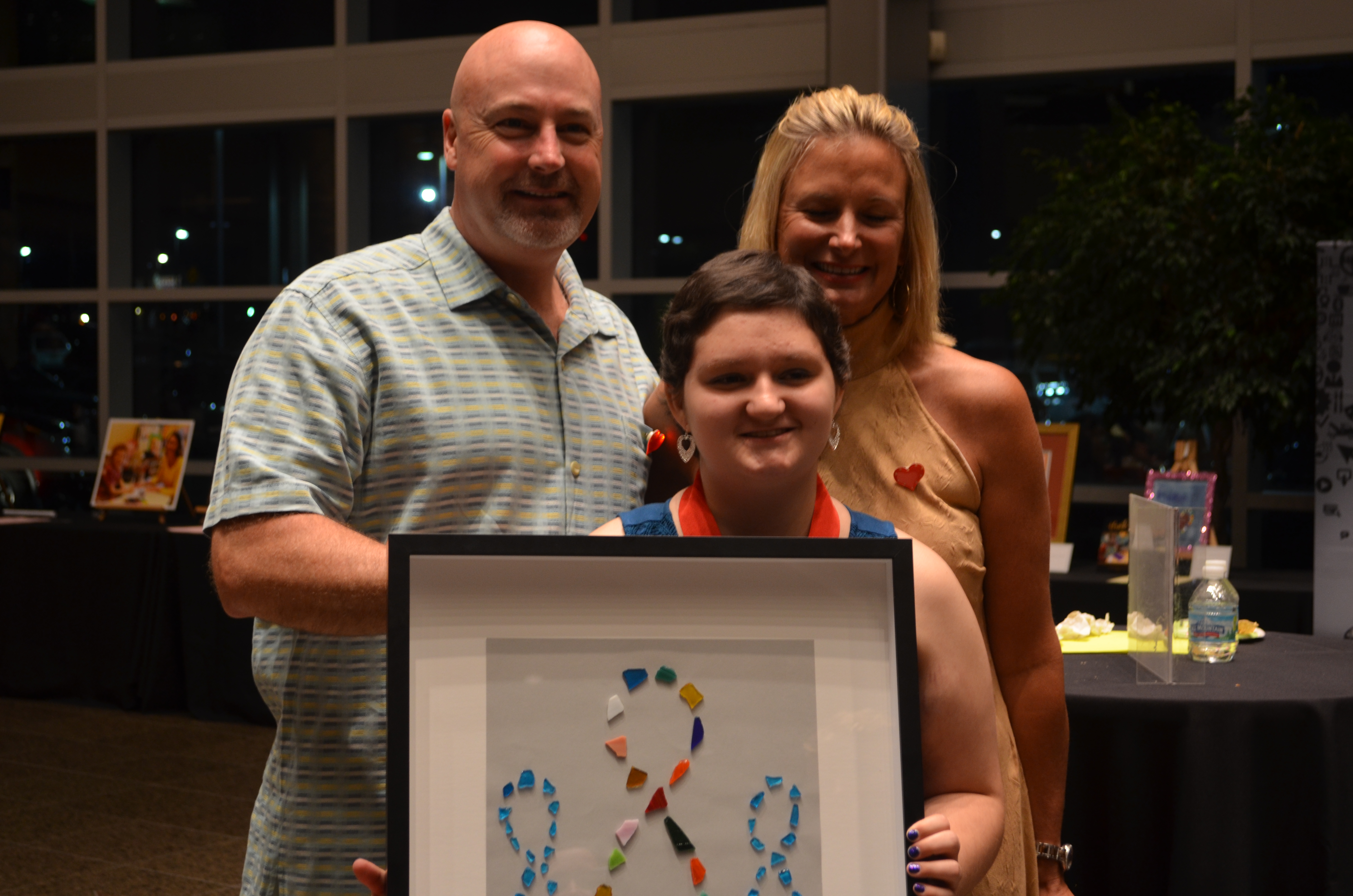 their strength and courage. The kids also made glass globes with the guidance of German glass blowing artist, Reinhard Herzog, that captured a piece of their breath and will remain a special keepsake for the child and family.
Kayla, who was diagnosed with stage 3A ovarian cancer at just 17-years-old last fall, had two special pieces of artwork in the auction, "My Journey" and "A Ray of Hope."
"Art from the Heart is one of the coolest things I've ever been to. It was so much fun and I loved meeting the people that bought my artwork. It was really neat seeing my artwork displayed next to other kids' and getting to read all of their quotes with their art was just wonderful," says Kayla.
Special thanks to the following framers who donated framing for each piece of artwork in the show: Prints Charming Gallery, Norton's Fine Art and Framing, Touch of Class Artwork, The Artery, Grafica, Arch Design, Artwork and Framing and Dogtown Gallery and Frame Shop.
Guests enjoyed delectable bites graciously provided by Andy's Frozen Custard, Billy G's, Bravo, Brio, Chick-fil-A, Cloud Nine, Companion, The Cup, Dave and Tony's, J. Gilberts, Krause Kakes and Katering, Ma Yim Bakery, Pretzel Boys, Seamus McDaniels, Tucanos and Domino's. The Rosewood Ensemble set the mood with beautiful music while guests enjoyed wine donated by Lohr Distributing Co. and beer donated by Grey Eagle. Special thanks to presenting sponsor Mungenast Lexus and the many generous sponsors including Lexus Financial Services, Service Metal, CRS, Bosco & Priscilla Westrich, Aramark Uniform Services, Inc., First Innovations, Susan Lindemann, Cynthia Hammersmith and Jolly's Custom Meat.
View Town & Style photos HERE.
Special thanks to all of our framers, food vendors, and Mungenast Lexus! YOU help kids with cancer...be Kids!