Educational Testing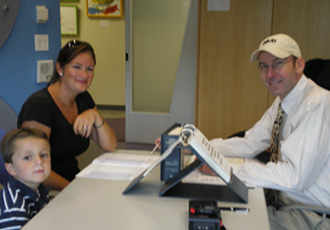 We are fortunate to partner with community partners, including Dr. Jim Russell, specialized in the administration and interpretation of standardized tests and assessments useful in determining the cognitive and executive functioning of children impacted by the treatments for pediatric hematology and oncology diagnoses. The continuity of testing from pre-treatment, through treatment and into survivorship allows for testing administrators, hospital treatment team members and education providers to determine the appropriate modifications for successful learning.
As more and more children survive pediatric cancer diagnoses, the need for educational support regarding the after effects of treatment is essential. Current research supports the incorporation of attention to neuro psychological testing opportunities to monitor acute and late term effects of treatment. (Mattie Miracle Cancer Foundation and National Institute of Health). Educational testing and success in the learning environment is yet another, and vital way, to improve the quality of life for kids with cancer and their caregivers navigating sometimes intricate educational systems.
Questions regarding the scholarship can be directed to Valerie at (314) 275-7440 or valerie@friendsofkids.com.