Educational Testing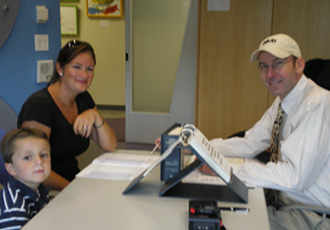 One of the groundbreaking new programs from Friends of Kids with Cancer, our testing program monitors the children from the early stages of treatment all the way through. These tests provide a baseline for where the child was performing when chemotherapy began, thus making any learning disabilities from the treatment easier to detect later on.

Research and testing the cognitive abilities of children fighting cancer wasn't even considered up until very recently. Due to the high number of children who did not make it, many thought it to be unproductive. Seeing the survival rates increase year after year, currently at 80% nationally, this program was developed to improve the quality of life for kids as they transition back into normal lives.

Dr. Jim Russell is a Licensed Professional Counselor, Nationally Certified Counselor, and a Diplomate, with the designation of: Clinical Mental Health Specialist, in Developmental Disability Counseling. He has been working with children and adults who learn differently for over 30 years. Dr. Russell has been working with the children and families at Cardinal Kids Cancer Care at Mercy Kids Hospital for over 12 years.
Dr. Russell runs the program, testing the children when they feel up to it. He then works with the nursing staff, educational tutors at the treatment center and the schools to better serve the child's educational needs based on the results. This type of work is rare, and Friends is at the forefront to assist these kids in their everyday lives with school, as well as planning for their future.