Help Kids with Cancer Stay Warm this Winter!
Friends of Kids with Cancer strives to meet the ever-evolving needs associated with childhood cancer. Hospital stays and medical procedures can cause significant financial stress for the patient and their families. These burdens become especially difficult during the cold, holiday season. By donating new winter items such as coats, gloves, and hats we can help alleviate some of these worries and allow the family to focus on staying healthy and spending time together!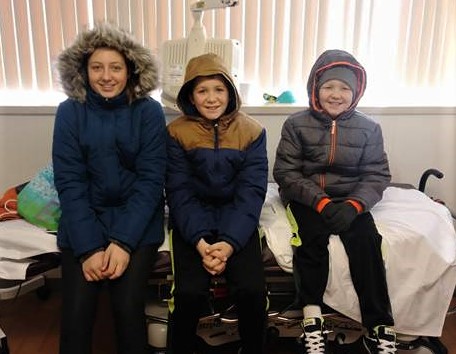 The following list includes patients and their siblings who are in need of coats for the upcoming winter season. We kindly ask that all donated coats are NEW. Coats may be dropped off to our office at 16 Sunnen Drive, Suite 161 St. Louis, MO 63143 by 5 p.m. on Friday, November 22. Donations of a new hat and pair of gloves for each child is also greatly appreciated.
New names/requests are added daily.
Call our office at 314.275.7440 or email our Volunteer Coordinator, Morgyn, to let us know which child/children you wish to donate a coat to. This will allow us to indicate which children's needs are filled. If possible, please include a gift receipt.
Thank you for helping kids with cancer stay warm this winter!
If shopping isn't your thing, consider making a donation to Coats for Kids and we'll do the shopping for you!
Click here to donate to Coats for Kids.
| | | | | | | |
| --- | --- | --- | --- | --- | --- | --- |
| # | First Name | Size | Favorite Color | Gender | Age | Filled |
| 65 | Jordan | 10/12 | Mint | F | 9 | filled |
| 66 | Charlie | 6 | Pink | F | 6 | filled |
| 73 | Nahla | 3/4 | Purple | F | 2 | filled |
| 78 | Zeva | 2T | Pink/purple | F | 2 | filled |
| 79 | Allie | adult small | Black/grey | F | 12 | filled |
| 83 | Diana | 5T | Pink/purple (girly) | F | 4 | filled |
| 84 | Dylan | Boys 10 | Royal Blue | M | | filled |
| 85 | Hayden | 2T | Blue/Camo | M | | filled |
| 86 | James | Medium (10/12) | Blue/Camo | M | | filled |
| 87 | Chris | Small (8) | Blue/Grey | M | | filled |
| 88 | Dominic | S (8) | Camo | M | | filled |
| 90 | Sydni | Girls 14/16 | Teal | F | | filled |
| 92 | Maci | Womens large | Black | F | | filled |
| 93 | Justus | Mens medium | Green | M | | filled |
| 94 | Logan | Boys 7/8 | Orange | M | | filled |
| 96 | Dakota | 16 | Black | M | | filled |
| 97 | Shawna | adult small | grey or light pink | F | | filled |
| 98 | Marlee | Adult medium | Purple | F | | filled |
| 99 | Leo | Adult medium | Grey, black | M | | filled |
| 100 | Adrian | 2T | Blue | M | | filled |
| 102 | Malaysha | 18-24 month | pink | F | | filled |
| 104 | Cameron | adult large | Any color | M | | filled |
| 105 | Jacob | adult 2X | Blue | M | | filled |
| 106 | Anna | Adult large | Girly color | F | | filled |
| 107 | Kacey | adult small | Purple | F | | filled |
| 113 | Brayden | Adult Small | Blue/Grey/Black | M | | filled |
| 116 | Donovan | 10 to 12 boy | Black or Blue | M | | filled |
| 129 | Sara | Women's XS | Black | F | 18 | |
| 135 | Cameron | 5T | Blue or Black | M | 5 | |
| 136 | Keyshawn | 2 | Blue or Black | M | 2 | |
| 137 | Emma | Kids XL | Blue or Black | F | 11 | |
| 138 | Justice | Kids L | no preference | M | | |