Friends of Kids with Cancer Virtual Bingo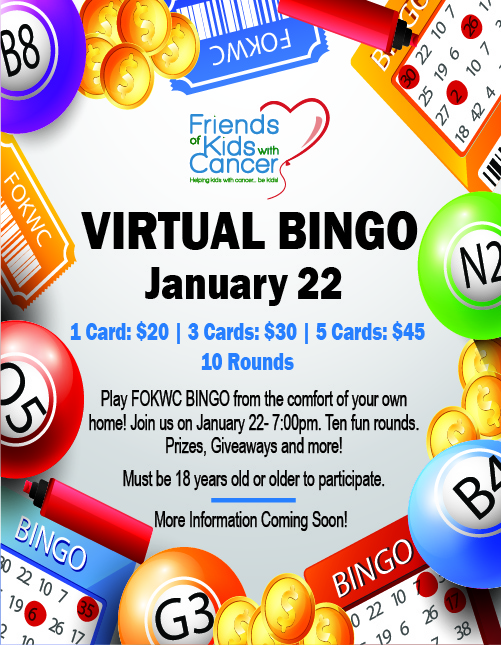 VIRTUAL BINGO IS NOW CLOSED. THE RAFFLE WILL REMAIN OPEN UNTIL THE FINAL ROUND OF COVERALL.
Please see below for more details.
---
The Raffle is Closed!
The winner will be pulled at the end of our Virtual BINGO Night! (Must be 21 to participate and local to the St. Louis area)
---
How BINGO Works
Player Cards:
1 Card for a donation of $20
3 Cards for a donation of $30
5 Cards for a donation of $45
Max of 5 cards per player
Cards are good for each of the 10 Games.
Once your donation is received, we will email your card(s) no later than the 21st of January.
The link for the upcoming livestream is as follows:
1. Streaming will begin at 6:30pm CST. This will allow for roughly 30 min to answer any Q & As that arise.
2. Bingo will start promptly at 7:00pm CST with a final "Coverall" to wrap up our fun and eventful night!
3. We will record the winner's names and all prizes will be awarded immediately after the final "Coverall" game.
4. Don't forget to always claim your BINGO because you never know. Sometimes, players make false claims.