Stephanie "Just Keeps Swimming"!
Stephanie has always been an extremely active and athletic girl. She loved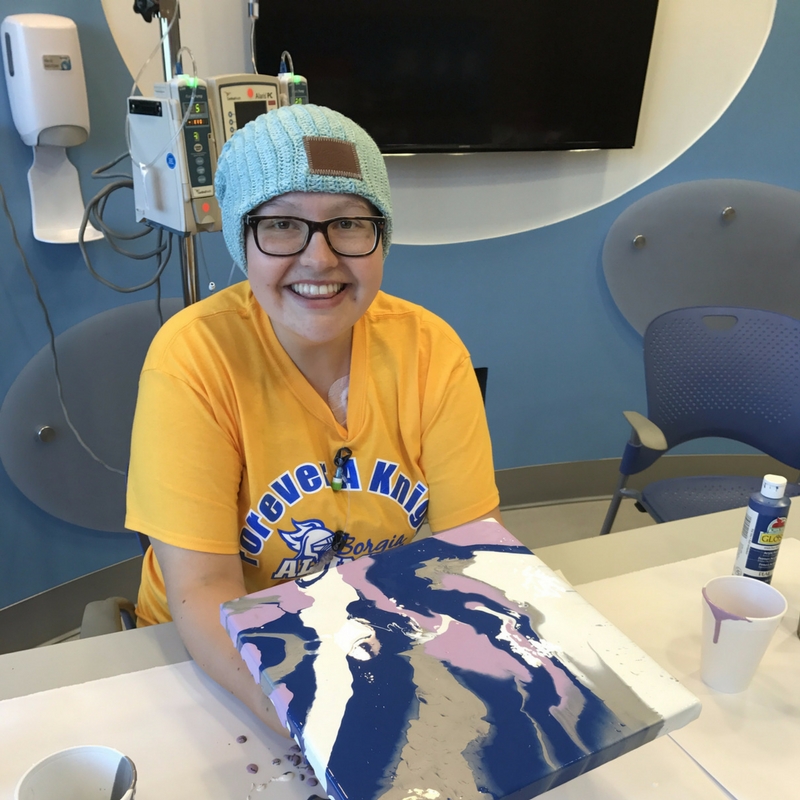 competing in triathlons, playing softball and basketball, and running track. So when she began experiencing knee pain during softball season, she wasn't going to let it slow her down. When the season was finally over, Stephanie decided to get it checked out. An MRI scan revealed a tumor in her knee, and within 24 hours, a biopsy confirmed that she had cancer.
"It moved so fast, but I think it probably worked out better that way because we didn't think about it. We just jumped right into it." Stephanie said.
That same day, Stephanie's doctors diagnosed her with Ewing Sarcoma- a very rare form of bone cancer. This 17-year-old girl was ready to fight, and without any hesitation began her 14 rounds of treatment.
"It has been a whirlwind ever since, but I have awesome support team back home which really makes a world of a difference," said Stephanie.
After her diagnosis, Stephanie's friends sold shirts to raise money for her. They said "Just keep swimming", a quote from one of Stephanie's favorite movies, Finding Nemo. Ever since then, just keep swimming has become her life motto.
"She has probably been one of the sickest kids to come through here, but she's always so vibrant, happy, positive and energetic," Tasha said about Stephanie.
After finally completing her 14 round of treatment, Stephanie rang the bell and was declared in remission. Her family took a trip to Disney to celebrate, but as soon as they returned home from the trip, so did Stephanie's cancer.
"It probably worked out better that I relapsed when I did because I was still in the routine of things," Stephanie said.
So for the second time, Stephanie prepared to fight for her life. Her doctors decided they needed to fight her cancer with a more aggressive form of treatment.
After just 1 round of the new drug, Stephanie's body had a horrible reaction to it, leaving her bedridden for a month.
"I was on so many other drugs because of all the side effects I was having from the treatment that I don't remember half of it," Stephanie recalls.
As soon as Stephanie began regaining a little bit of strength again, her doctors started her on a different set of drugs to try and avoid the harsh side effects. After two rounds of the new treatment, Stephanie's scans showed no evidence of disease, however, it was causing the muscles in her body to deteriorate. So her doctors went back to the drawing board and decided on the third set of drugs to combat her cancer.
"Trial and error is all that it really is. I'm currently on the third set of drugs and I'm tolerating it 10x better than any of the other ones. I've been doing good ever since," said Stephanie.
Stephanie has only been able to work with Friends of Kids with Cancer's Art Therapist, Tasha, a few times because the side effects from her treatment have left her too sick to leave her bed. But whenever she is feeling up to it, she loves going.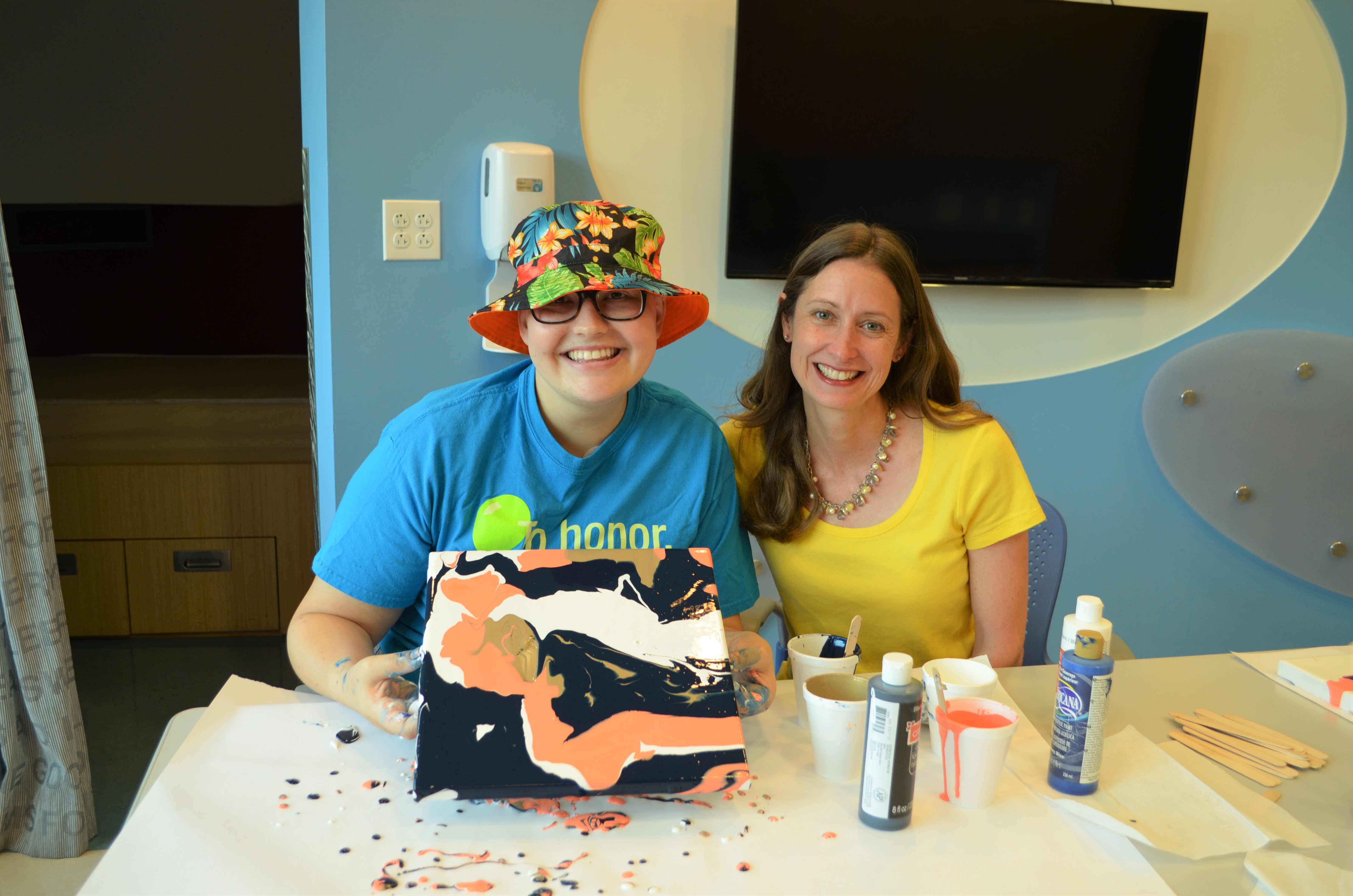 "It is definitely something to look forward to. Whenever I'm getting treatment and Tasha asks me if I want to do some art and I'm actually feeling good, I always say yes. Because for a second, it lets me focus on something other than cancer," Stephanie said.
Stephanie has been working with Tasha to create marble art that represents her "go with the flow" personality. "Each piece is unique and you don't really know how it's going to turn out so you just have to work with it. And that's the thing with cancer- you can't plan anything. It changes hourly." Stephanie says having that mentality has really helped her get through treatment.
All of her art pieces will be featured in the 8th Annual Art from the Heart fundraiser at Mungenast Lexus of St. Louis on Thursday, September 14. Stephanie is a resilient and inspiring young lady. Meet Stephanie and hear her story at Art from the Heart. You will truly be touched by her vibrant personality and remarkable journey.
Today, Stephane can see the finish line in sight. She has 2 more round of treatment to go, and will hopefully be ringing the bell once again in the beginning of September.
What's next for Stephanie? She is about to celebrate her 19th birthday and begin college as she aspires to become a chef. She said, "after I was diagnosed, I spent so much time watching Food Network and realized I could totally do that for a living." We can't wait to see all the amazing things Stephanie will accomplish!
All of us at Friends of Kids with Cancer as so proud of Stephanie and can't wait to see her artwork displayed at Art from the Heart on September 14.