Trivia Night Raises Over $18,000!!!
Trivia Night Raises Money, Spirits for Friends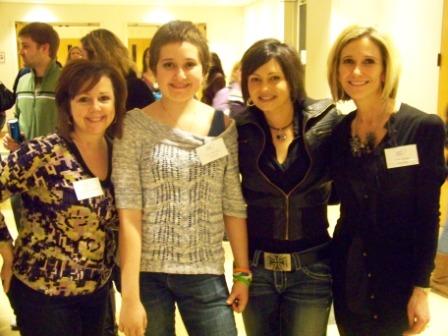 January 25th, 2010 - Over 600 people packed into CBC High School for the 9th Annual Friends of Kids with Cancer Trivia Night, and they helped raise over $18,000 for the charity and its programs. The room was buzzing with excitement, and nothing could quiet the crowd as the festivities began- except for one teenage girl.
Before the questions started, the crowd got some answers on why this night was so important. Sasha Edwards, 14, of Charleston, IL spoke about her time in treatment for cancer at St. Louis Children's Hospital and how Friends has made a huge difference in her life.
"What children lose most going through cancer are pieces of their childhood, and Friends helps put those pieces together," said Sasha during her speech. "The gift cards I received helped me take my mind off my treatment, and what girl doesn't love to shop?"
Even though it was a tough act to follow, Heidi Glaus of KSDK Channel 5 took over the microphone with hosting duties for the evening. She entertained the crowd with quips and questions as the trivia buffs got their fill.
Participants were treated to a raffle featuring upscale jewelry courtesy of Stella and Dot, a Blues package courtesy of Waste Management and a Cardinals package courtesy of Southwest Bank Wealth Management. Beer, wine, soda and water were complimentary for the night thanks to donations from Anheuser-Busch, Inc., Blumenhof Winery and Bank Star, who donated the water.
We would like to give a special thanks to both CBC High School, for donating the space and being so accommodating, and to the Moneta Group for being our Major Sponsor! Also, we could not have done this without the hard work of our two new co-chairs, Sue Miller Warden and Christine Sadler.