Choo Choo Ride Rolls Through St. Louis!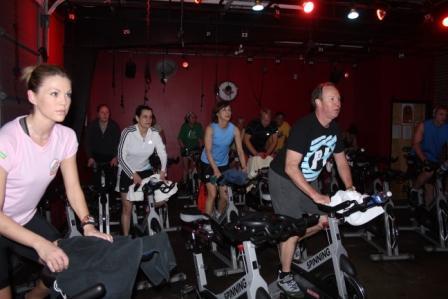 1st Ever Choo Choo Ride Indoor Cycling Marathon
Those still on a healthy kick from the New Year found some extra motivation to jump on an indoor cycling bike and go for a ride - helping kids with cancer in St. Louis through Friends of Kids with Cancer.
The Choo Choo Ride took place at nine fitness and health clubs all over St. Louis. These satellite locations hosted the event simultaneously, all conducting an indoor cycling class for three hours. Together, they helped raise over $7,000!
"This is the first time an event like this has brought together fitness and health clubs from all over for an amazing cause," said Lawson Primm, creator of the Choo Choo Ride. "We had everyone from fitness gurus and first-time riders participating at their own pace and enjoying the experience of indoor cycling."
Participants chose to ride for one, two or three hours at Lifetime Fitness, Wellbridge Clayton and Town & Country, the Jewish Community Center in Creve Coeur and Chesterfield, Nutriformance, St. Louis Spinning, Sante Fitness at the Chase Park Plaza or the Club in Chesterfield.
Over 175 people came out and rode at least an hour throughout the available locations. At Lifetime Fitness, Ride Captain Robbie Dutton and his family cheered on the riders and helped spur on the group. Robbie, a current patient at St. John's and St. Jude's in Memphis, has a rare form of childhood cancer. He was the inspiration of the event through his friend, Lawson Primm.
We would like to thank all the clubs for their participation and help in hosting this amazing event. Also, our Choo Choo Ride Committee, including chair Lawson Primm, co-chair Justin Taylor and Kaylea Boutwell. Thanks to partners Lululemon and Saks Fifth Avenue, and of course, all of the riders who put in the hard work to make this a success!
If you were disappointed the Saks Fifth Avenue Shopping Event was cancelled due to bad weather, fear not! It has been rescheduled for March 9th, 2011. Check back later in February for more detailed information and how YOU can get your 15% off discount at Saks!