Koman Girls and CHILL Frozen Yogurt Give Portion of Profits to Friends!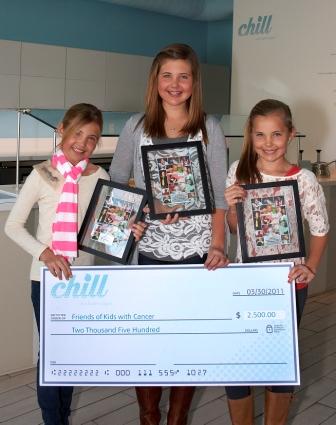 Nicole, Laine and Blaire Koman presented a check for $2,500 from their trendy west-coast-style frozen yogurt shop, Chill, to Friends yesterday at their Wydown location (7610 Wydown) on the 1st Anniversary of the shop. The sisters, who actually own and run the shop, donated a percentage of their profits from the first year.
The Koman sisters, ages 13, 11, and 9, are following naturally in the footsteps of their entrepreneurial and community-oriented parents, Bill and Amy Koman. They have been intricately involved in the development of the store and the choice of Friends of Kids with Cancer as the recipient of their community charity.
The girls' father, Bill, is a two-time cancer survivor, and they have personal experience with the hardships and treatment of cancer. They have also seen their parents create the Cancer Frontier Fund and the two events that support it - The Siteman Cancer Center Illumination Gala and Pedal the Cause, an annual bike ride to raise cancer awareness and funding for Washington University School of Medicine, Children's Hospital, and Siteman Cancer Center.
"Since our Dad had cancer, we thought it was a really good cause to give it to," said Blaire, age 9.
The girls became familiar with Friends of Kids with Cancer through the family's long-time friend, Jill Turec, Developmental Specialist for Cardinals Kids Cancer Center at St. John's. Jill provided them much loving support, as well as the opportunity to see the caring commitment given to the children in the program. What they experienced left a lasting impression.
"They are a really special organization and they are close to all our hearts," said Nicole, age 13. "We thought it would be great to share with an amazing organization like Friends."
With their newest store opening in Des Peres on April 1st and another on its way in late May, the Koman girls will continue to give a portion of their profits to Friends of Kids with Cancer. So Check out CHILL as the weather warms up in Clayton and Des Peres!
We would like to thank the Koman family, Liz Summers and everyone at CHILL for this amazing donation and commitment to our cause. We would also like to thank our Board Member Joe Curotto, longtime supporter Mick Byrne, survivor Alex Wilcox and both KSDK and KTVI for covering the event!
See the wonderful news story on Fox 2 by Kurt Labelle!