Walk with a Friend 10th Anniversary Gets Record Crowd!!
Click on the Photo to see more of this year's Walk, including pictures, sponsors and Race Times!
Click here to see Fox2's coverage of the event!
Record Crowd Helps Celebrate 10th Anniversary of the Walk/Run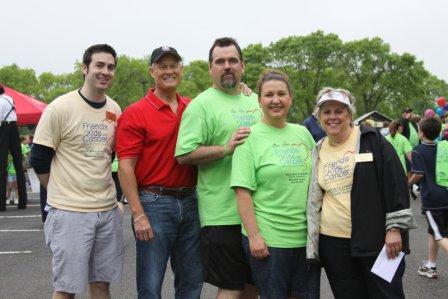 Over 1100 participants celebrated the 10th Anniversary of the Walk with a Friend Sunrise Celebration at Maryville Centre last Saturday, raising over $40,000 for Friends!
"It was like a sea of green (t-shirts)," said Judy Ciapciak, Executive Director of Friends of Kids with Cancer. "We are proud to have so many patients and their families who want to give back to our organization, and it really shows the impact our programs have on their lives."
Friends of Kids with Cancer welcomed Tom O'Neal and Teresa Woodard of Fox 2 News as Honorary Co-Chairs of the event, which has raised over $40,000 in each of the last three years. This has helped fund the 15 different programs that target the recreational, educational and emotional needs of kids receiving treatment for cancer and their families at area hospitals.
Many of the participants came from family teams, which give family and friends of kids battling cancer an opportunity to show their support. This year's Walk was especially important to C.J.'s Journey, a team that brought in almost 150 participants and over $2,000 alone. C.J. Aubuchon celebrated his 19th birthday at the 2009 event with over 100 participants, but succumbed to cancer only a short time after.
"This is where we needed to be, and this is where we will be spending his birthday from now on," said Jeanine Aubuchon, C.J.'s mother. "We will never be able to repay what Friends did for him."
Duke Realty, who also donates office space to the organization, provided the venue at Maryville Centre. First Watch served up a complimentary breakfast of fresh fruit, muffins, yogurt parfaits and even waffles fresh off the griddle. Both were major sponsors of the event. Kids enjoyed a visit from Louie of the St. Louis Blues amidst carnival games, a moon bounce and a vintage fire truck on display.
We would like to thank all of our sponsors who made this possible, and most of all to the family teams who came out in droves this year. That is what makes both this charity, and this event so special! Also, this would not have been possible without the hard work of our committee, including co-chairs Chuck McDonnal and Deborah Patterson, along with the irreplaceable Kris Kennedy and our volunteer man, Mike Roberson.