Rain or heat, kids see a whole new world at the Magic House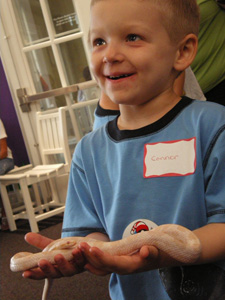 With the renovation and expansion of the Magic House opening this year, Patients and their families were introduced to a whole new world of discovery; from a three-story rainforest to a revolving fireplace right out of a Sherlock Holmes mystery.
Kids, siblings, parents, grandparents and a lot of Friends were on hand to enjoy a night out at the Magic House. Hot dogs and hamburgers were only the start as families filed in the door. North Star popsicles, snowcones and popcorn from Santa Needs Help volunteers, and Gus' Pretzels were waiting outside every new adventure the Magic House offered.
Kids could enjoy brand new exhibits such as the Bubble Room, where you could make a soap bubble as big as yourself, or the national travelling exhibit the Fairy Tale Room, where Beauty and the Beast, Thumbelina, and Jack and the Beanstalk take you through their stories.
With the kids occupied in fairy tales and face paint, parents were able to relax and catch up with each other. Being able to let the kids have fun and take some time to themselves is important, and this event provides that every year.
Thank you to the Talx Corporation for providing volunteers and making this whole event possible. Also, thanks to Santa Needs Help and North Star for making this a special experience for everyone there.