Friends Shares Some Magic with a Special Group of Kids!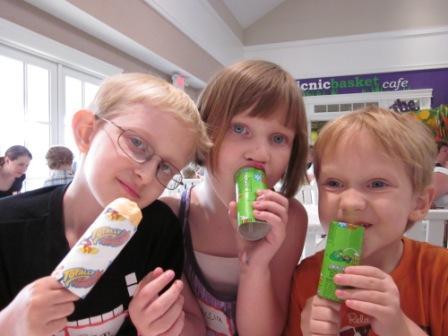 Friends of Kids with Cancer rented out the Magic House in Kirkwood again, and families of kids in treatment came from all over to be a part of this special event.
The kids, their siblings, parents and grandparents were able to experience the discovery and excitement of the Magic House, Friends provided dinner, snacks, face painting, a snake handler and of course, lots of gifts.
"Parents will drive their families from 2 or 3 hours away just to be here," said Margie Sedlack, Program Director at Friends of Kids with Cancer. "They never go home empty-handed."
Amongst the Build-a-Bears (donated by KPMG), toys, games, food and entertainment, kids were able to be in a fun, social environment with other kids who understand what they are going through. The same, however, goes for the parents.
"It can be such a relief for the parents to be in this atmosphere," said Judy Ciapciak, Executive Director. "They don't have to worry about the kids as they run around, and they can talk to other parents who are in their situation. Everyone has a sympathetic ear and an understanding heart."
We would like to thank the Talx Corporation for supporting this event and providing volunteers, as well as Santa Needs Help for providing entertainment. A special thanks goes to the chair of this event, Kris Arneson, for organizing this year's event.
The Family Night at the Magic House is one of many family parties thrown throughout the year for kids and their families. Friends also purchases a full section to a Cardinals game, as well as puts on Halloween and Winter Wonderland parties.