Anders CPAs + Advisors fundraisers are a 'slam dunk'!
Anders CPAs + Advisors is a local CPA and advisory firm serving privately held companies and high-net-worth individuals. Their offices are located in downtown St. Louis and offer many incredible amenities to their employees.
Every January, Anders staff members are asked to nominate a charity they are involved with for the Anders Annual Charity of Choice, with the winning organization benefitting from their fundraising activities for the year.
So far in 2015, Anders has hosted many dress-down days and an awesome "Hoops For Hope" March Madness Bracket Challenge! This Bracket Challenge had 500 entries and a donation was made for every bracket! In June 2015, Anders presented a check for $11,500 and have even raised more than that since the check presentation!
Kyle Coady, a supervisor in the Audit and Advisory Services Group, nominated Friends of Kids with Cancer because of his wife's personal experience. When Leah Biskup (now Leah Coady) was in high school and going through treatment for cancer, she received services from "Friends".
"They provided resources such as a tutor so she could stay up-to-date with her school work, tickets to events, and shopping gift cards," said Kyle Coady. "Not only did they provide tangible items, they gave her much needed emotional support and special attention to her younger siblings who were only 6 and 10 at the time. Friends of Kids with Cancer provides moments of happiness not only to the child in treatment for cancer, but to their entire family who are going through a very tough time, which is why Anders was proud to have them named our 2015 Charity of Choice."
To everyone at Anders CPAs + Advisors, we thank you for helping kids with cancer…be kids.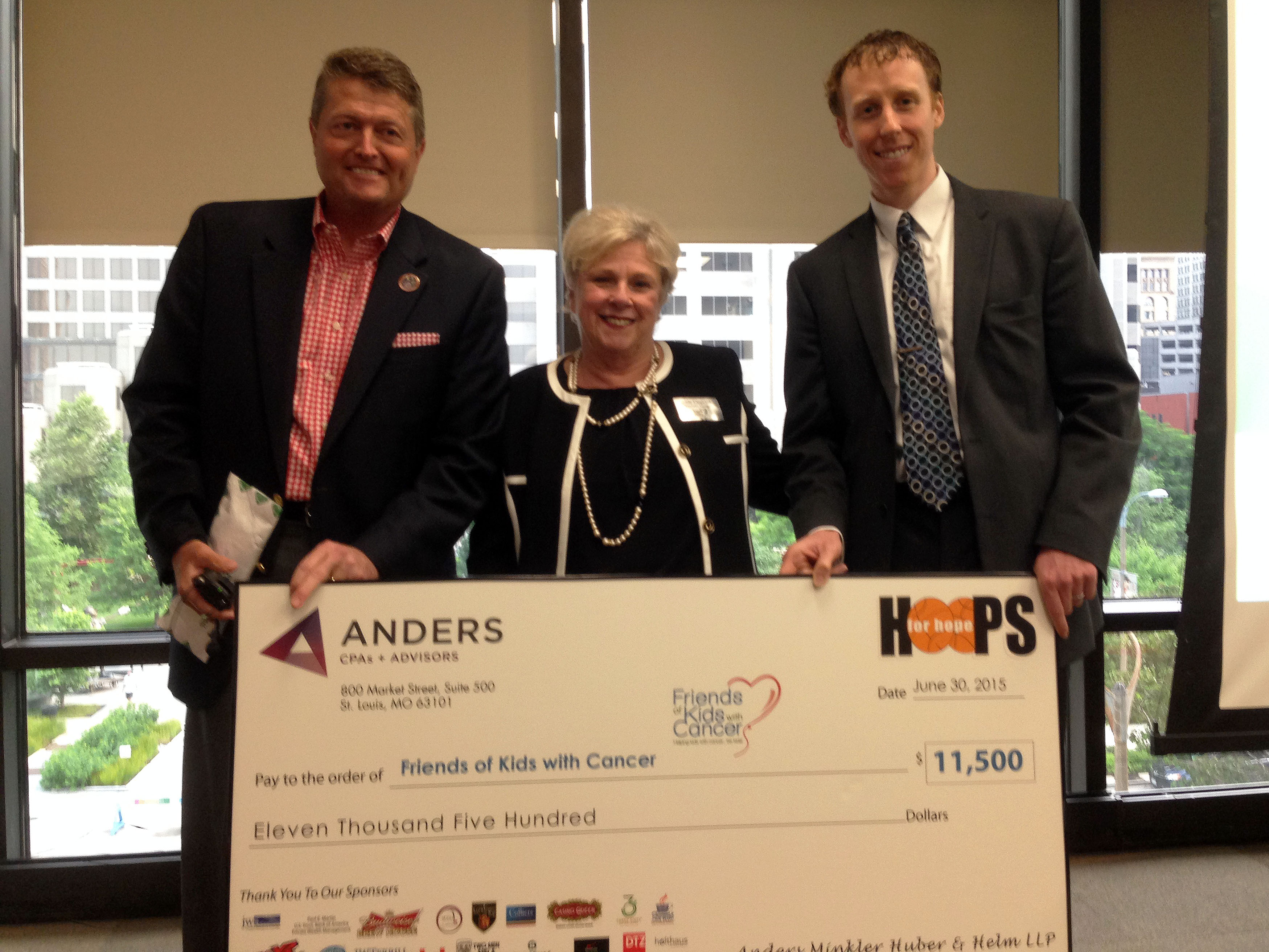 The Anders mission is "Always On" working to create a brighter financial future for their clients' businesses and families. Friends of Kids with Cancer is also "Always On" creating brighter days for our patients and their families through our Educational, Emotional and Recreational programs .