Black Sheep Foundation raises $20,000 while honoring a special girl!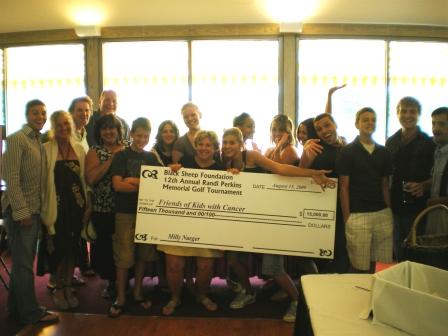 What started as a yearly get together for former players has become an amazing show of heart to kids with cancer. After a full day of food and drinks (and even some golf), everyone gathers for lunch and the ultimate surprise. While holding other events throughout the year to raise money for charity, the Black Sheep have donated more money than any Rugby Club in the entire country. After seeing the manliest of men pour their hearts into a great cause like this, I bet you'll never watch a Rugby match the same again.
Milly Naeger, 17, was this year's honoree. She was also the featured speaker at our 2008 Fashion Show, and she picked up right where she left off. After being surprised and immediately brought up to the podium, she jumped right onto the microphone and wowed the audience with a very heartwarming and composed story about herself and her experiences. The Black Sheep then presented her with a signed photo and poster from her favorite actor, a Black Sheep Rugby jersey signed by all the guests and donated all the proceeds to Friends- in her name.
Thank you to everyone who helped put this event together from the Black Sheep Foundation, as well as all those who traveled from far and wide to participate. A very special thanks goes out to Jon Burke, a Friends Board Member who puts his heart and soul into making this a fun and successful event every year.