Friends Shares the Great Outdoors with Kids and their Families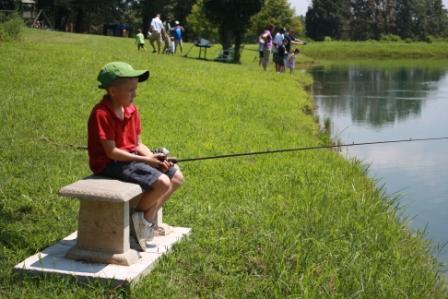 Dr. Phil and Teresa Hendricks, who own a farm in Owensville, MO, provided kids and families from all the local treatment centers a special summer treat through Friends of Kids with Cancer.
The Hendricks' opened their grounds to over 300 people who traveled long distances to take advantage of a beautiful day outside. The Hendricks Farm provided fishing, paintball, pony rides, an extensive petting zoo and a beautiful summer landscape. While the summer sun has been brutal so far, the weather broke just enough for the kids and families to enjoy a unique outdoors experience.
To help the cost of the drive, Friends provided each family with a $25 gas card and also had lunch prepared for everyone as well. Tom Gardner and his group Santa Needs Help provided all the volunteers and we can't thank him enough for all that he does.
Thank you to Dr. Phil and Teresa Hendricks for the use of their beautiful land and amenities, and to all of the families who came out!