Meet Our 2019 Spotlight Artist Ally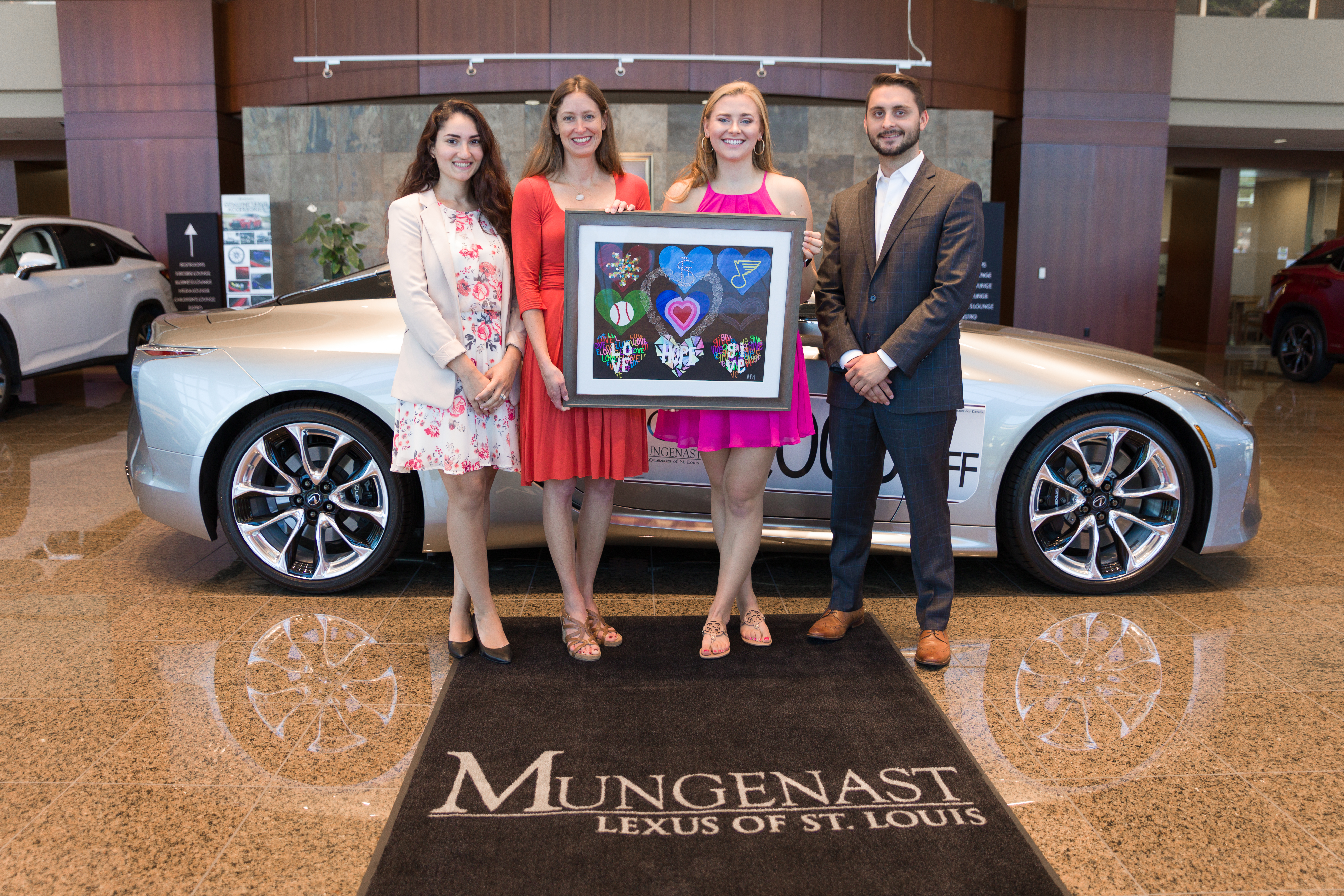 Ally has been part of the Friends of Kids with Cancer family for over 10 years. She became introduced to art therapy after her brother Austin was diagnosed with childhood cancer.
"Art therapy is a great way to express yourself through art no matter what emotion you are feeling. I know that as long as Natasha is there, I can go in and work on my art piece. Art therapy has become my 'safe space' and I feel really lucky to have the opportunity to participate each year in Art from the Heart." Ally
Her piece displayed above is titled "A Decade of Giving, Hoping, and Loving" and will be available for bid on September 12, 2019 at Mungenast Lexus of St. Louis.
"My brother Austin or I have been in every AFTH since the beginning. Each heart represents a piece of art he or I did for the show that year. The first four hearts are recreations to the piece Austin made for the show during the four years he was in treatment. The last five are pieces I made for the show after he died. The glass heart on top is the tenth heart representing the 10th Art from the Heart.
Being a part of AFTH for the past 10 yrs in one way or another has been amazing. Since Austin was in the very first show it has always been special to us. It became even more special to me after he died because I was able to contnue his legacy within the cancer world while also giving back to FOKWC. The broken glass makes me think of all the ways cancer has tried, and sometimes succeeded, in breaking our world, hearts, and spirits. But the heart made of glass representing the 10 years of AFTH reminds me of the good things that have come from this one really bad thing- like FOKWC, Camp Rainbow, our Mercy family and friends, all of the people I have met because of this, and all the love everyone has for one another in the cancer world." Ally
Ally is currently studying nursing at Maryville University. She enjoys volunteering at FOKWC events and loves seeing all the patients and their families at the events having fun and being kids.
---
We invite you to join us in celebrating a momentous occasion: Art from the Heart's TEN YEAR ANNIVERSARY of helping kids with cancer through art therapy on September 12, 2019