Catch Us on the Cover of Town & Style

SHINE BRIGHT: FRIENDS OF KIDS WITH CANCER
When you're young, the idea of strutting down the runway as a model is the epitome of glamour. The lights, the audience, the clothing—it's an experience Friends of Kids with Cancer makes a reality for young cancer patients every year at its Fashion Show & Boutique. As the nonprofit's signature fundraiser, the event honors its mission to give children and families the support and services they need that medicine alone cannot provide.
The fashion show accounts for more than 20 percent of the organization's programming budget, but executive director Tim Mickelson says the most important aspect is the models. Each year, 30 patients from Mercy, SSM Health Cardinal Glennon Children's Hospital and St. Louis Children's Hospital are selected to participate, and they receive the superstar treatment. Along with modeling in afternoon and evening shows, participants receive a special gift bag and get to stay overnight at The Ritz-Carlton with their family. "The show is a day of magic, and the kids are the stars," Mickelson says. "In the book of their battle with cancer, there are a lot of dark paragraphs and pages, but we give them a truly happy, beautiful chapter."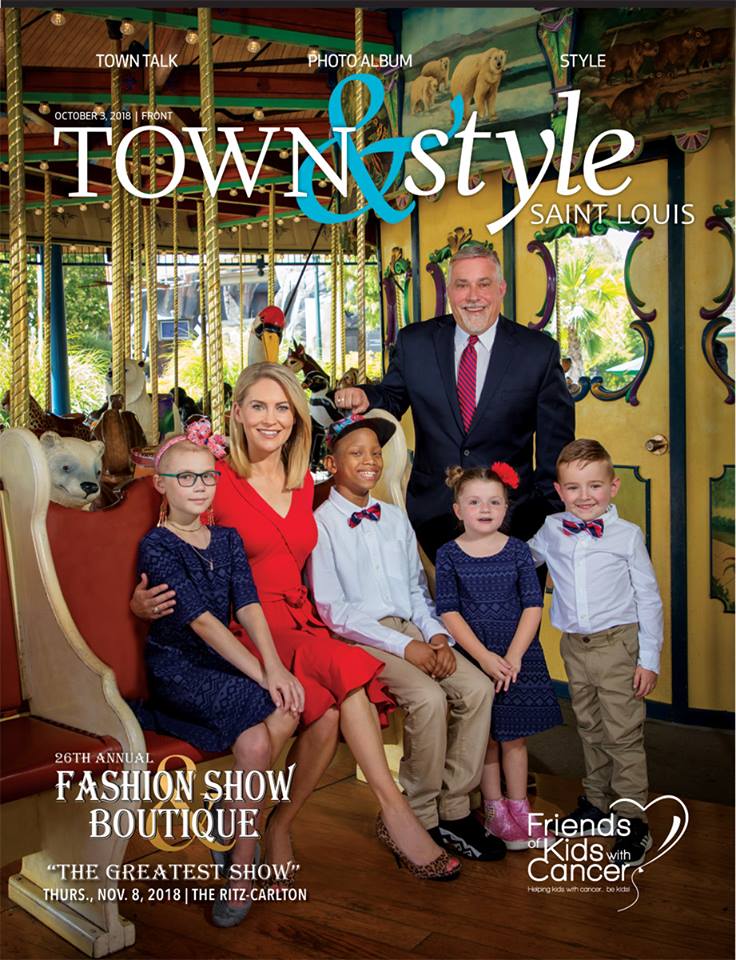 It's an experience that is meaningful for the entire family. "Families get to forget about the daily stresses of having a sick child and watch them thrive," Mickelson says. At last year's show, he spoke with a woman whose daughter almost wasn't able to participate due to a relapse. After learning how much the event meant to her, doctors agreed to release her from the hospital for the show. "I watched this young lady walk down the runway and share a look of love with her mother," Mickelson recalls. "It was a very beautiful moment, and it represents why we do this."
Friends of Kids with Cancer is focused on helping meet the nonmedical needs of the families it serves, and the fashion show is just one part of this mission. The organization also offers programming to help address educational, emotional and recreational concerns. "It's incredibly important that these children maintain a positive approach and continue looking toward the future," Mickelson says. He explains that this means helping kids stay on track in school, cope with overwhelming emotions and not forget to have fun. And the nonprofit is expanding to increase its impact. Mickelson says this year alone, its art therapy program has grown three times as large. The nonprofit also is more than doubling the size of its facilities to offer more onsite services, including new therapy rooms that will best serve both children and adults. It hopes to develop additional sibling support programs and services to help survivors with the long-term effects of cancer and treatment.
This year's show will help make more growth possible. The event is Nov. 8 at The Ritz-Carlton, and boutique shopping from local stores and vendors begins at 10 a.m. for the luncheon show and 5:30 p.m. for the dinner show. The first show is emceed by KSDK anchor Anne Allred, and Jim Hayes of Fox Sports will preside over the second. "We're calling it the 'Greatest Show' as a bit of a nod to the fun and wonder we always try to provide," Mickelson says. "Guests will experience a room absolutely filled with love and magic. It's a day when the disease disappears for a little while and all of the light shines on the children themselves."
Pictured above: Models at the 2017 Fashion Show & Boutique
Friends of Kids with Cancer provides educational, emotional and recreational support for children undergoing treatment for cancer and blood-related diseases. Its annual Fashion Show & Boutique is Nov. 8 at The Ritz-Carlton. Pictured on the cover: Event emcees Anne Allred and Jim Hayes with Emma, Matthew, Lucy and Johnny. For more information, call 314.275.7440 or visit friendsofkids.org.
Cover design by Allie Bronsky | Cover photo by Colin Miller of Strauss Peyton Photography