Halloween Party Brings Out Family and Friends!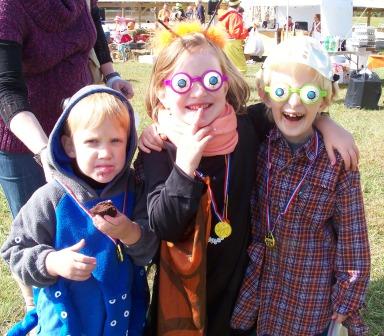 The 2009 Halloween Party was a huge success, despite attempts from Mother Nature to dampen our spirits.
Families came from all over to Blue Herron Farms in Blank, MO, for the festivities despite recent bad weather. Once again, the clouds parted and a beautiful day emerged for the big event.
Many of our distinguished guests came in their scariest costumes. We saw pirates, superheroes, witches and even Curious George followed by the Man in the Yellow Hat.
Everyone enjoyed great food from Valenti's Market, along with drinks and snacks. Carnival games and booths were a big hit again, along with animals galore. The snake handler was a popular person for the kids, as were the pony rides and petting zoo. Best of all, scenic hayrides around the grounds of the farm had huge lines, but everyone got in on the fun!
A sincere thank you to everyone that helped put this together, especially Arthur and Kathy Wasserman, Gene Deutsch, Tom Gardner and Santa Needs Help, and Happy Time Ice Cream.