2010 Fashion Show Raises $120,000 Worth of Smiles!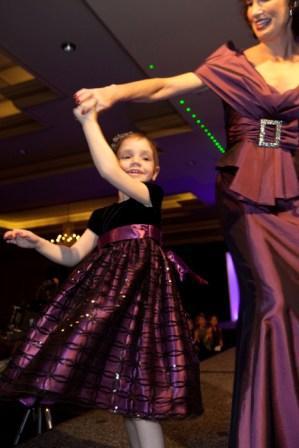 The 18th Annual Friends of Kids with Cancer Fashion Show and Boutique on Thursday, November 4th, at the Ritz-Carlton in Clayton raised $120,000 for our programs!.
The stars of the show were current patients in treatment for cancer and our 3rd Survivor Class, some of whom have participated previously, returning for a another walk down the runway.
The luncheon and dinner shows attracted over 1,100 people throughout the day and night. The red-carpet gala featured boutique shopping, gourmet food and plenty of well-dressed patrons. MC Guy Phillips of Y98 was back for the luncheon, and Julie Buck of KLOU 103.3 MC'd the dinner for the 1st time. Jan McCormick kept the energy going during the show as usual! Also a special thanks to Adam Jokisch for donating his time as the auctioneer, and to survivor Sarah Voss Horrell, who came all the way from Virginia to speak!
But most of all, it features the kids and celebrates their courage. Each model gets a bevy of gifts suited to their personal preferences, from a Barbie-themed Power Wheels convertible to a full-sized basketball hoop for the backyard! In the midst of all the gifts, the pizza/pool party in-between shows and a fun night's stay at the Crown Plaza hotel, something larger comes out of this experience for the kids. It is a real opportunity to build their self-esteem and confidence, making every kid feel beautiful and allow them to walk in the limelight to thunderous applause.
The Fur and Leather Centre along with Dillard's at the Galleria and Distinctions displayed the hottest Fall and Winter fashions.
Thank you to Bella Gente Salon for the hair and make-up on our beautiful models, and to Patti Gabriel for taking pictures of all the kids, including those seen here. Also to Videogate, for producing a video of this memorable day. We would also like to recognize the chairs of the event: Mary Mercurio, Debbie Stock and Merri Cross. Without them and our volunteer committee, none of this would be possible!