Brandy Bimslager,
Executive Director
Brandy serves as Executive Director of our organization, appointed in October of 2018. Previously she served as the Office Administrator and Volunteer Coordinator, then Program Director where she earned 8 years of experience within the organization. Her extensive involvement working directly with volunteers, staff, hospital providers, and patient families in addition to her tremendous passion for helping pediatric cancer families made for an easy transition to leadership. Professionally, Brandy has experience in the service industry, sales, politics, and coaching youth soccer. She earned her BA from the University of Missouri-St. Louis, where she played collegiate soccer. She became passionate about our mission through an experience with a close friend who lost their child to this devastating disease.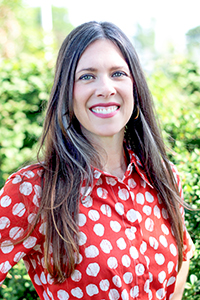 Valerie Kennedy Lang, MSW, LCSW, OSW-C,
Program Director
Valerie graduated from the Brown School of Social Work at Washington University in St. Louis in 2007 and worked as a social worker with the pediatric hematology/oncology/bone marrow transplant services at St. Louis Children's Hospital for 8 years. In addition, Valerie was an adjunct faculty member at the Brown School where she taught a master's level healthcare social work course. She has been a member of the Friends of Kids with Cancer team as a support group facilitator before becoming our Program Director.